Movers in Cincinnati
eko_wpadmin
Movers in Cincinnati
For those who are moving for the first time, the meaning of a "small move" may seem vague. This is understandable. The term "small move" is understood to mean any move that refers to a single object. Which is particularly heavy or complex to move. Or even several small objects that can be transported in one transport. Know that no move is too small for a mover. The only difference lies in the type of local moving company who will accept to take your job.
Ekomovers, professional small movers in Cincinnati offers you best moving services in various cities of the USA
What types of small moves should you hire a mover for?
It goes without saying that paying for the services of small movers in Cincinnati should be worth it. If you have particularly heavy or fragile goods. It is better to entrust Ekomovers, as we have experience of over an decade.
Expensive televisions and electronics. 
It is best to leave them in the hands of competent movers like EkoMovers. Even though these devices are not as heavy as they used to be. The problem lies more in transport. Your various electronic devices and the famous 70-inch television screen are much more fragile than you might think. So they should be packaged carefully to avoid cracks in the middle of the screen. But fear not, we will transport your TV and other devices with no problem.
It is another maneuver that is best left to the professionals. Their heavy weight makes them impossible to lift without the necessary specialized equipment. Which only professional movers have. In addition, a spa usually has a complex connection system. The experts at EkoMovers has the best knowledge to move technical items with great care.
Lifting ancestral furniture.
It seems very simple at first glance. But you and your back will quickly find that it is much harder to move than it looks. These have a very high financial value. Not to mention the sentimental value attached to them. Wondering if it's worth contacting professional movers near me for your furniture?  When you ask the right questions, the answer comes on its own.
Are you able to move the object on your own? Do you risk breaking the object? Worse, do you risk hurting yourself trying? Is paying a mover such an inconceivable expense?
If you answered no to these questions. It's time to hire best movers in Cincinnati for your small move without further ado. You can get the best prices along with the best service by just requesting a free quote at our website.
Think about it a bit. The reason why you go to the trouble of hiring a mover for a small move. The goods to be moved are of great value or of great complexity to move. Ekomovers, small move specialists in Cincinnati OH  provides a mix of quality and a good price. This often turns out to be the best course of action!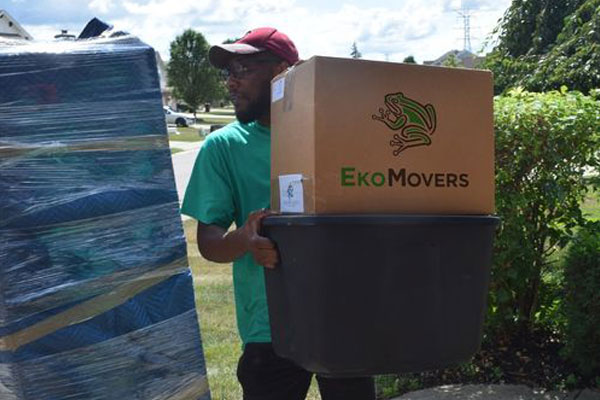 How much do movers in Cincinnati charge?
Hiring a moving company in Cincinnati costs $500 on average
What is a good price for a mover?
Local movers charge by the hour, so depending on the average local moving costs, hiring 2 men and a truck will cost you on average $ 125 an hour. When moving to town, moving labor only (without the moving truck) will cost around $125 per hour.
How much does it cost to have a mover pack for you?
Moving houses can be tedious. The cost of packing a house ranges from $ 270 to $ 2,200, with an average of $ 1,000. This total includes materials and labor for packing boxes and furniture. Hiring a professional to pack and unpack costs $ 370 to $ 3,600
How much does a full service mover in Cincinnati cost?
Full-service movers charge $125-$130 per hour for packing, moving, and unpacking. A typical four-bedroom house takes three movers 8-12 hours to pack and at least ten hours to move, resulting in a minimum cost of $1500 for full-service movers.