Hassle-Free Move with Professional Office Movers
Office Moving
In a globalized and competitive world, we know that your business cannot be stopped. EkoMovers is aware of the importance of perfect planning and coordinating the move of your office. In order to minimize the time and interruption of your business activity. Leaving your moving in EkoMovers hands not only guarantees a professional and quality result but will also avoid many problems.
YOUR PERFECT OFFICE MOVE
EkoMovers have multiple solutions. So that any merchandise, even the most delicate, is transferred with maximum protection during the move of your office. We take care of packing with great care. All the belongings of the company, furniture, documentation, and computer equipment are handled with utmost care.
We coordinate with the  IT and General Services teams. To plan the connection and distribution of jobs in your new offices. Your business will be up and running 100% before you move in your new premises.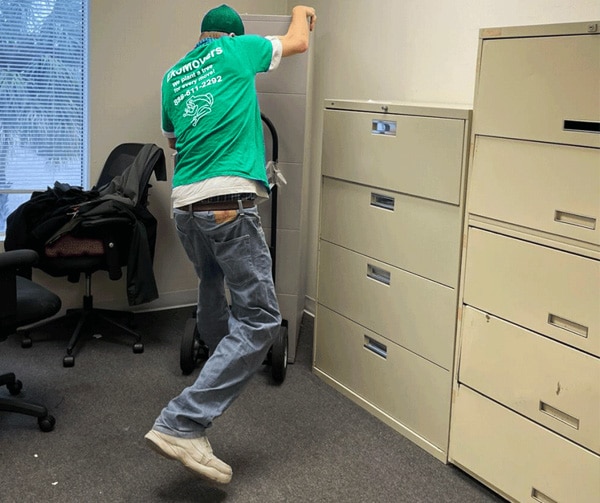 SERVICES INCLUDED IN YOUR OFFICE MOVING
MATERIAL PACKAGING.
We use packaging of different sizes. Blanket wraps for computers or special boxes for lamps or large objects.
FURNITURE ASSEMBLY.
We disassemble the furniture that requires disassembly. To facilitate its transfer, we reassemble it in the new office.
FURNITURE ELEVATOR.
We have furniture lifting ladders. To avoid complicated access or manage large furniture without damaging it.
VEHICLE FLEET.
We have vehicles of different sizes to adapt to any movement. And carry out the transfer in the shortest possible time.
PERMITS.
We manage all the permits, such as those necessary for the occupation of the public road, reserving the loading and unloading areas.
MOVING INSURANCE.
Our extensive experience allows us a minimal accident rate. But we include insurance in case of any damage.
ADVICE.
Our team will advise you at all times. To resolve any questions or problems that may arise in the transfer process.
SPECIALIST STAFF.
Our staff is our main asset, and the team is permanent, experienced, and highly trusted.
FURNITURE REPOSITORY.
We also put at your disposal, optionally, our storage furniture for the storage of any furniture.
---